Celebrating the Establishment of a New Professorship in Japanese Buddhism
2 July 2015
Photo: Prof. Dr. Zimmermann
Picture: Karsten Helmholz
Die Buddhismusstudien an der Uni Hamburg werden ausgebaut. Erstmalig seit Bestehen der Uni Hamburg wird es ab dem Wintersemester 2015 eine dauerhafte Vollprofessur für Japanischen Buddhismus geben.
Starting in the Winter Term 2015, Buddhist Studies at the University of Hamburg will be expanding to include a new permanent full-time Professorship in Japanese Buddhism. This will mark a first in the history of the university. The professorship will be housed at the university's Asien-Afrika-Institut and enhance both the Japanese and Buddhist Studies programs. Alongside the Professorships in Indian and Tibetan Buddhism, this new position will form yet another pillar in the already existing International Master Program in Buddhist Studies. Its creation will also reinforce the internationally significant role of research on Buddhism being conducted at the University of Hamburg.
This new post was made possible by a generous donation from the Bukkyo Dendo Kyokai (BDK), a Tokyo-based foundation that aims to promote research on Buddhism on an international level. Until now, only two further professorships had been established by the foundation in Europe: one at Oxford University and other at the School of Oriental and African Studies (SOAS), London. Funding for the position has been secured for an initial 30-year period. It will officially be called the Numata Professorship in Japanese Buddhism, after the foundation's chairman, Rev. Toshihide Numata. Courses in Japanese Buddhism are set to begin in October 2015.
The BDK has been a long-standing supporter and donor of the Numata Center for Buddhist Studies at the University of Hamburg. Up until 2014, the foundation had sponsored Buddhist Studies scholars to reside in Hamburg for one semester, to conduct research and to teach.
The establishment of the professorship was celebrated during a ceremony held at the Asien-Afrika-Institut on July 2, 2015. With Rev. Numata on hand for the occasion, the program included opening remarks, speeches, and musical performances. In his speech, Rev. Numata expressed his hope that the creation of the professorship would greatly encourage intensive study into the various traditions of Japanese Buddhism.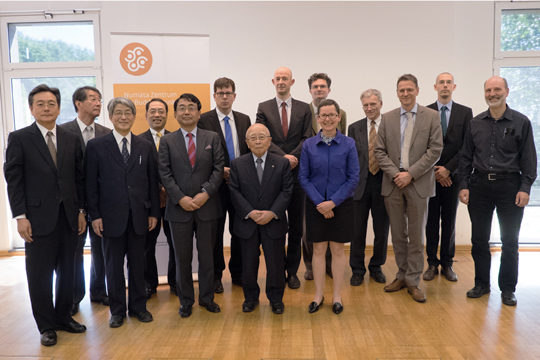 ---