Nang Nak—Ghost Wife: Desire, Embodiment, and Buddhist Melancholia in a Contemporary Thai Ghost Film
21. November 2018
Nang Nak—Ghost Wife: Desire, Embodiment, and Buddhist Melancholia in a Contemporary Thai Ghost Film
Arnika Fuhrmann, Assistant Professor of Southeast Asian Studies, Department of Asian Studies, Cornell University
21. November 2018, 16.15 Uhr
The 1999 Thai ghost film Nang Nak renders desire and sexual personhood in the idioms of Buddhist pedagogies and economies of desire. Examining how the core Buddhist trope of the negativity of female embodiment works in present-day cinema and policy, this analysis of the globally circulating heritage film Nang Nak questions the relations of haunting to historical injury and repair.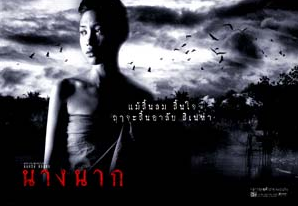 The talk shows how new forms of cinematic representation take recourse to Buddhism and parallel the ways in which sexual and economic sufficiency policies draw on Buddhist concepts. Thus the trope of Buddhist melancholia furnishes a convention that in mainstream film figures nationalist heteronormativity, and Buddhist understandings of the temporal dimensions of desire frequently concur with the "time of capital" and the "time of the nation."
Finally, the talk demonstrates how the temporal incongruity of haunting can also be made available to feminist interpretation. When Buddhist stories highlight the difficulty of giving up attachment, these stories—as well as women's devotional practices related to the ghost Nak—also become counterdoctrinal and highlight the persistence of women's desires.

Arnika Fuhrmann is an interdisciplinary scholar of Southeast Asia, working at the intersections of the region's aesthetic and political modernities. Her book Ghostly Desires: Queer Sexuality and Vernacular Buddhism in Contemporary Thai Cinema (Duke University Press, 2016) examines how Buddhist-coded anachronisms of haunting figure struggles over sexuality, personhood, and notions of collectivity in contemporary Thai cinema. In a new research project, Fuhrmann focuses on new media and how the study of the digital allows for a perspective on the political public sphere that transcends commonplace distinctions between liberalism and illiberalism. This project intersects with her interests in the transformation of cities in contemporary Southeast and East Asia. She is currently Assistant Professor of Southeast Asian Studies in Cornell University's Department of Asian Studies.
Veranstalter: Numata-Zentrum für Buddhismuskunde der Universität Hamburg
Ort: Edmund-Siemers-Allee 1, ESA-Ost, Raum 120
Der Flyer der Veranstaltung kann hier heruntergeladen werden.
---
---